Gentle Vitamin C Exfoliating Face Scrub
Buffs away dead skin cells, leaving the skin feeling bright and radiant.
WHAT IS IT?
The MCoBeauty GENTLE VITAMIN C EXFOLIATING FACE SCRUB is your at-home facial in a bottle! Our Vitamin C-infused, brightening exfoliant gently buffs away dead, dull skin to reveal a glowing and ultra-soft, radiant post-facial complexion. The unique formula is a combination of physical and chemical exfoliators, helping your skin feel revitalized and smooth, while the skin-loving ingredients like Kakadu Plum and Salicylic Acid enrich and nourish your skin.
WHAT IT DOES:
Gently removes dead skin and impurities
Delivers brightness, glow and radiance
Instantly reveals a fresher and smoother complexion
Combination of physical and chemical exfoliators
WHY YOU'LL LOVE IT:
Rich in Vitamin C and Salicylic Acid
Skin feels soft, smooth and ultra clean
Gentle, non-abrasive formula
Helps your other skincare products penetrate deeper
Skin feels smooth, soft and fresh
HOW TO USE IT
Lather between your hands with a little water, then massage directly onto the skin using gentle circular motions. Rinse. Follow with the MCoBeauty Brighten Day & Night Moisturiser.
INGREDIENTS
Key ingredients:
Kakadu Plum
- Rich in vitamin C
Made without:
Sulphates
Parabens
PEGs
Mineral Oil
Palm Oil
Aqua (Water), Cellulose Acetate, Cetearyl Alcohol, Glyceryl Stearate SE, Caprylic/Capric Triglyceride, Cocos Nucifera (Coconut) Oil, Glycerin, Stearic Acid, Phenoxyethanol, Caprylyl Glycol, Macadamia Integrifolia Seed Oil, Prunus Amygdalus (Almond) Seed Oil, Ceteareth-20, Cyclopentasiloxane, Salicylic Acid, Xanthan Gum, Terminalia Ferdinandiana (Kakadu Plum) Fruit Extract , Podocarpus Elatus (Illawarra Plum) Fruit Extract, Pleiogynium Timorense (Burdekin Plum) Fruit, Backhousia Citriodora (Lemon Myrtle) Leaf Oil, Pelargonium Graveolens (Geranium) Flower/Leaf/Stem Extract, CI 17200, Geraniol, Linalool.
FAQ
How often should I use the Gentle Vitamin C Exfoliating Scrub?
That depends on your skin type. Those with oily/congested skin might like to use this scrub every day, depending on their skin's tolerance.
We recommend those with normal, dry, or sensitive skin use this scrub 1-2 times a week, preferably at night, as an exfoliating treatment.
If your skin is textured, inflamed or you are experiencing breakouts, use delicate pressure when exfoliating those areas to avoid irritation.
Be careful not to over-exfoliate your skin and be sure to introduce this product slowly into your routine.
As always, be sure to listen to your skin. If you experience any irritation or sensitivity, pull back and wait for your skin to settle and recover, before reintroducing the scrub again slowly.
Does this scrub contain microbeads?
Definitely not! The Gentle Vitamin C Exfoliating Scrub is formulated with tiny plant-based granules that dissolve easily and are environmentally friendly.
Is this product safe for sensitive skin?
The entire MCoBeauty Skincare range has been formulated with sensitive skin in mind and all of our products are suitable those with sensitive skin.
But as always, we encourage you to listen to your skin's needs and tailor your routine accordingly. Some people with sensitive skin can exfoliate every few days, while others can only tolerate exfoliation once a week or once a fortnight.
If you have sensitive skin, we recommend introducing this scrub into your routine once a week as a exfoliating treatment, then increasing the frequency of use as you build up your tolerance.
USE IT WITH
CUSTOMER REVIEWS
Customer Reviews
Write a Review
Ask a Question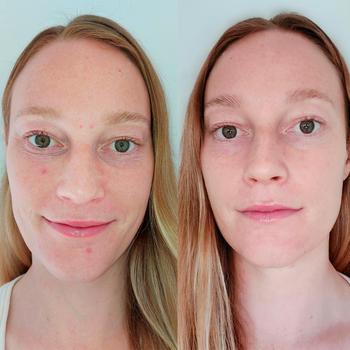 08/31/2021
Feels like a professional facial!
The face scrub smells delicious, is gentle and really gets rid of dead skin leaving my face feeling rejuvenated like after a professional facial.
Jennifer G.

Australia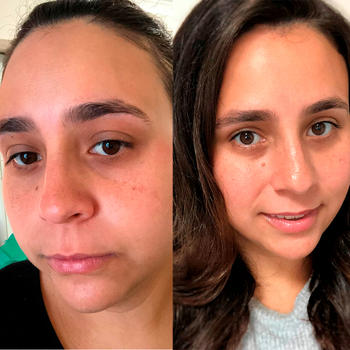 08/31/2021
Instantly the skin becomes smooth!
Gives a deep cleanse without the harsh scrubbing, instantly the skin becomes a smooth canva for the rest of the products to be used and it's great because you don't have to use it everyday. I used mine 1-3 times a week
Gabi S.

Australia
08/31/2021
The perfect scrub
Deep cleansing without hurting the skin. The perfect scrub.
Hannah M.

Australia